Nå har Europa Nostra offentliggjort det som vurderes som årets mest truede kulturminner i Europa. De ligger i henholdsvis Armenia, Estland, Finland, Frankrike, Hellas, Spania og Tyrkia. I tillegg fokuseres det på det kanskje mest utsatte stedet i hele Europa, nemlig lagunen i Venezia.
Y-blokka i Oslo som var foreslått av Fortidsminneforeningen ble dessverre ikke tatt med i denne omgangen.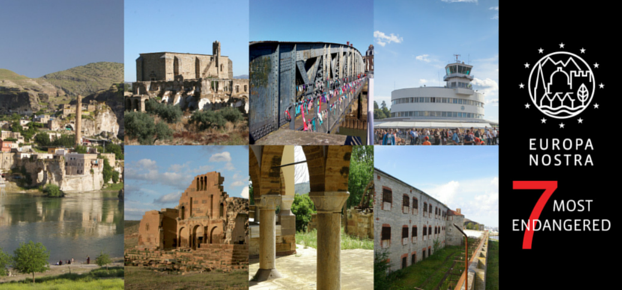 Her følger et utdrag fra pressemeldingen:
---
Europe's 7 Most Endangered Heritage Sites 2016 announced
The Hague / Luxembourg, 16 March 2016 – The Archaeological site of Ererouyk and the village of Ani Pemza in Armenia, Patarei Sea Fortress in Tallinn in Estonia, Helsinki-Malmi Airport in Finland, Colbert Swing Bridge in Dieppe in France, the Kampos of Chios in Greece, the Convent of St. Anthony of Padua in Extremadura in Spain, and the Ancient city of Hasankeyf and its surroundings in Turkey have been named as the 7 Most Endangered heritage sites in Europe in 2016. Europa Nostra, the leading European heritage organisation, and the European Investment Bank Institute (EIBI) made the announcement today during a public event at the Ateneo Veneto in Venice, Italy.
These gems of Europe's cultural heritage are in serious danger, some due to lack of resources or expertise, others due to neglect or inadequate planning. Urgent action is therefore needed. Expert missions to the sites will be arranged and feasible action plans submitted by the end of the year. 'The 7 Most Endangered' has the support of the Creative Europe programme of the European Union, as part of Europa Nostra's network project 'Mainstreaming Heritage'.
In addition, Europa Nostra and the EIB Institute, following a strong recommendation from an international panel of specialists, decided to highlight a heritage treasure of the utmost importance to Europe and the world which is also endangered: the Venice Lagoon in Italy.
---
– Les mer her: http://7mostendangered.eu
– Full pressemelding her
– High Res photos